Mission Statement
It shall be the mission of the Frederick County Sheriff's Office to provide fair, unbiased law enforcement services to the public while respecting the individual's constitutional rights.
New twist to grandparent scam: mail cash
In 2018, the Consumer Sentinel Network has seen a striking increase in the median dollar amount that people 70 and over are saying they lost to fraud. Digging into the data, we found some common stories with an unusual twist: people 70 and older report mailing huge amounts of cash to people who pretended to be their grandchildren.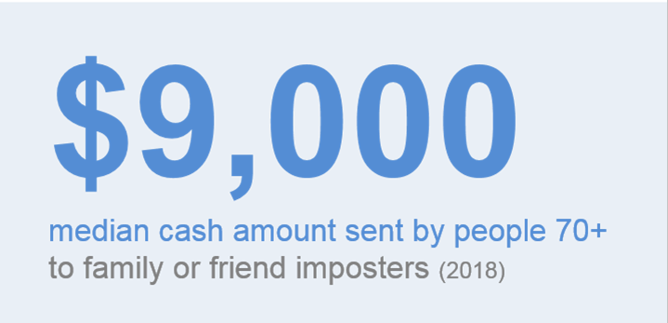 People 70 and over rarely report to the FTC that they paid a scammer with cash. But for one particular type of fraud – family and friend imposters – fully 25% of people 70 and over who reported to the FTC how they paid money told us they sent cash.1
We call these family and friend imposter scams, but you may know them as the "grandparent scam" and with good reason. People 70 and over report that the scammer posed as a grandchild, usually a grandson, about 70% of the time.2
People from all age groups reported median individual losses of about $2,000 to family and friend imposters – far higher than the median loss of $462 reported to us this year for all fraud types.3 But the story is much worse for people 70 and over who sent cash – they reported median individual losses of $9,000.4
When we looked at fraud reports from all age groups, and from all Sentinel data contributors,5 we found that aggregate losses to family and friend imposters have increased. Losses over the past year reached $41 million, as compared to $26 million in the previous year.6
Like many scams, these start with a phone call7 using some common ploys. In about half of the reports of cash payments, people said the caller claimed to be in jail or other legal trouble.8 About a third of these reports mentioned a so-called car accident (some mentioning texting or drinking while driving).9 In both cases, the callers play on people's emotions and sense of loyalty: they may be told they're the only person trusted enough to call for help, and they're often told not to tell anyone.
Information Provided by https://www.ftc.gov/news-events/blogs/data-spotlight/2018/12/new-twist-grandparent-scam-mail-cash
Crime Solvers

Call (540) 665-TIPS to leave anonymous crime information. No calls are traced and no identification is required.